AMAGGI and TNC brought expansion viability and benefits over underutilized pasture areas
AMAGGI and TNC brought expansion viability and benefits over underutilized pasture areas
The environmental organization The Nature Conservancy (TNC), in partnership with AMAGGI, carried out an analysis in 6 important cities in the state of Mato Grosso (MT) which proves the feasibility and benefits of expanding soy production to underutilized pasture areas, without the need for new deforestation focuses. The municipalities of Água Boa, Barra do Garças, Nova Ubiratã, Paranatinga, Ribeirão Cascalheira and São Felix do Araguaia were analyzed, which presented a total of 697,000 hectares (equivalent to 697,000 soccer fields) degraded that can be converted to agriculture, according to the table below.
The above municipalities, with the exception of Nova Ubiratã, have a degraded area larger than that foreseen for soy expansion. Thus, to meet the growing demand, it is possible to direct the expansion to underused pasture areas, avoiding expansion over areas of native vegetation.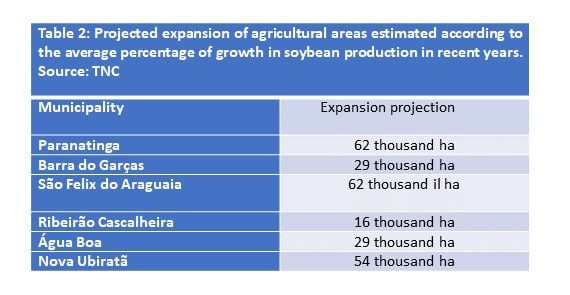 In a scenario in which Mato Grosso emerges as the main soy producer in Brazil, with a high exports rate, it is essential to unite production and sustainability. According to the Ministry of Agriculture, Livestock and Supply (Mapa) data, the state's production in 2020 is estimated at 34.9 million tons, a good part of the total forecast for Brazil of 120.3 million tons. Furthermore, according to MAPA 2020 projections, soybean production in the 2029/30 crop in Brazil will be 156.5 million tons – an increase of 30.1% compared to the 2019/20 production, led by MT, with expected production of 46.4 million tons – an increase of 33.2% in relation to the 19/20 production.
The use of underutilized pasture areas suitable for cultivation brings a series of benefits to producers. An interesting mechanism is the diversification of production through innovative techniques such as Crop Livestock Forest Integration (ILPF). Interest in this production model is based on the benefits observed. Among these, the improvement of the physical, chemical, and biological properties of the soil, breaking disease cycle, reducing pests and weeds, reducing economic risks through diversification of activities, and greater resilience to extreme weather events. These analyzes show that there are opportunities for the producer both to promote more efficient cattle raising, as well as expand agriculture in already open areas, since forest exploration takes time and presents a high cost. In addition, there is potential for better land use and income diversification through integrated crop, livestock, and forestry systems.
To this end, the study shows that the implementation of agriculture, with or without integration systems in consolidated areas, allows for planting in a short period of time, in addition to combining productivity with the conservation of natural resources and the opportunity to receive environmental services payment for the conservation of forest remnants, adding income diversification to the producer, valuing property, the production chain and the environment.
If you have any interest in watching the video in Portuguese, click here.